The Triangle Puzzle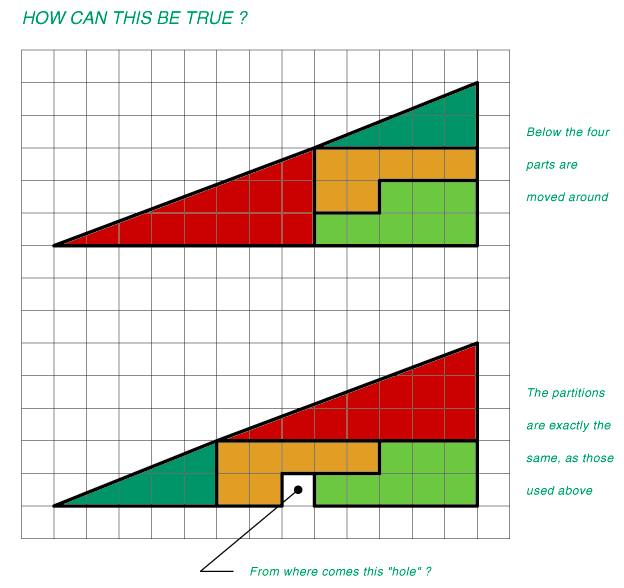 The answer appears near the bottom of this page.
Answer to the Two Triangles
The two shapes are not identical since the two triangles do not have the same slope. The picture of the triangle with the space actually has a bulge on the hypotenuse which takes up one additional square. Test it on graph paper and you will see that the hypotenuse is not a straight line
Look at the Wolf picture and see how many you can find...click HERE
Keep having fun at Just Riddles and More...!
Click below:
Riddles l Games l Daily Puzzle & Games l Illusions l Downloads l Picture Puzzles l Quizzes l Free Stuff l Comic Fun
Number Equations l Math Puzzlers l Mystery Corner l Kids Pages l Webmasters l Word Play l Trivia l Great Links
Irritating Pages l Logic Questions l Wacky Words l Cats l Challenge Puzzle l Hidden Faces l Jumbles
Bible Names Puzzle l Brain Busters l Vocal Puzzles l Magic Tricks l Interactive Puzzles
Message Board l Sign/View Our Guest Book l Puzzle Books
HOME
Disclaimer: We present our site as our collection of riddles and puzzles, etc. We do not claim to be the authors of all said materials. When authorship is required or requested, we always properly note that with the material presented. We do not knowingly post copyrighted material. This site represents our ongoing collection.